Platform & Schedule
Check out an overview of the RightsCon Costa Rica schedule below to begin planning your experience.
9:00am-3:30pm









Satellite Events









4:00pm-5:00pm

Opening Ceremony

5:30pm onwards

Opening Ceremony Reception

12:00am-9:00am
Online Programming
9:00am-11:30am
In-person, hybrid, & online programming
11:30am-1:30pm
Lunch available
In-person, hybrid, & online programming
1:30pm-5:30pm
In-person, hybrid, & online programming
5:30pm onwards
After Dark events & light online programming
12:00am-9:00am
Online Programming
9:00am-11:30am
In-person, hybrid, & online programming
11:30am-1:30pm
Lunch available
In-person, hybrid, & online programming
1:30pm-5:30pm
In-person, hybrid, & online programming
5:30pm onwards
After Dark events & light online programming
12:00am-9:00am
Online Programming
9:00am-11:30am
In-person, hybrid, & online programming
11:30am-1:30pm
Lunch available
In-person, hybrid, & online programming
1:30pm-4:30pm
In-person, hybrid, & online programming
4:30pm-5:30pm

Closing Ceremony

Frequently Asked Questions
Check out our answers to frequently asked questions. If you are unable to find the information you are looking, get in touch with us at [email protected]
Where and when will RightsCon Costa Rica be held?
In 2023, RightsCon will be a hybrid convening taking place in San José, Costa Rica and online through the RightsCon platform, from Monday, June 5 to Thursday, June 8. The venue for in-person participants is the Costa Rica Convention Center, a bioclimatic, eco-friendly, and sustainably-designed space located near the airport and just outside the city center.
The RightsCon platform, which we have used since 2020, will host the full program as well as provide access to online programming with features that enable networking between participants including one-on-one and group chats, and creative spaces for connecting and socializing. The platform will use different video streaming and conferencing services, including Vimeo, Zoom, and Frameable (previously Social Hour).
Can I request a refund or make changes to my ticket?
If you are unable to participate at RightsCon, you can request a full refund of your in-person ticket up to seven (7) days before the event starts. If you purchased an online ticket, you can request a full refund up to a day before the event starts.
Unfortunately, the ability to exchange your ticket type is not available on our platform at the moment. If you would like to change your ticket from online to in-person or vice versa, we will issue a refund of your current ticket and you will need to process your registration again. To request a switch, please get in touch with our team at [email protected].
How are you approaching safety and security?
Whether in-person or online, creating a safe space for participants is our top priority. Our Security Working Group (SWG) – an internal committee composed of our RightsCon, SecOps, and Code of Conduct leadership, will implement security and safety processes to ensure every participant enjoys a safe, enriching experience. You can learn more about our general approach to safety and security in our 2019 blog post and stay tuned for specific guidance ahead of RightsCon Costa Rica.
What Covid-19 safety measures will you have in place at RightsCon Costa Rica?
The health and safety of the RightsCon community, including staff and participants, is important to us. We recognize the impact of COVID-19 is ongoing and the importance of communicating our approach and sharing resources to inform your decision-making around health and safety more generally. Our approach is driven by the policies of our host country, the size and scale of our event, and the reality of vaccine inequity globally.
At this time, we are following the guidelines set out by the Costa Rica government, which is fully open to tourists, and does not mandate vaccines, testing, masks, social distancing or other requirements for travelers or gatherings. We encourage in-person participants to be fully vaccinated and test themselves regularly. We will regularly review guidelines from the Costa Rican government to ensure we comply with local measures and provide participants with up to date information.
In addition, we will:
Share regular guidance, reminders, and updates in the lead-up to the event;
Have masks and sanitizer on-hand to offer to participants;
Work with the venue staff and health authorities to implement regular cleaning and disinfection, air circulation, and safety protocols;
Provide access to free rapid antigen tests if you feel ill while in attendance within a staffed onsite medical room.
It's up to all of us to protect our community gathering in-person from the spread of COVID-19 and as such, we ask that you:
Review country entry requirements for your points of departure, connection, and return;
Prepare a contingency plan for your accommodation and travel (including insurance coverage) in the event of a positive test or if symptoms arise;
Take a rapid antigen or PCR test before traveling to Costa Rica or the venue;
Conduct a self-assessment prior to joining us at the event and, if you have symptoms, stay home or in your hotel room;
Take measures to prevent transmission of viruses – such as mask wearing, hand washing, and regular sanitizing.
We have chosen not to mandate social distancing, testing or masking due to capacity and spacing considerations, as well as our inability to adequately and legally enforce such mandates. We are also aware that protective measures can create a false sense of security, and do not want to cloud participants' judgment to assume or not assume this inherent risk, considering the scale of our event. However, we strongly encourage protective measures on an individual level, and we ask that our community respect those around them in what they choose to do based on their own level of comfort. If you have pre-existing conditions that put your health at risk, we encourage you to consider participating in RightsCon online.
As always, if you have any feedback or questions, please don't hesitate to reach out to us at [email protected].
What steps will be taken to ensure accessibility at RightsCon Costa Rica?
We are thinking intentionally about ways to ensure that every aspect of our summit – from the venue to programming and participation are accessible to as many participants as possible – whether they're joining online or in-person. We are making sure that both the interior and exterior of our event space in Costa Rica are physically accessible to participants, and we are optimizing the functionalities of our website and platform to improve the user experience.
In the coming months, we will share more details about our approach to accessibility and the specific steps we are taking to broaden access across RightsCon spaces.
How do I make an accessibility request?
If you have an access request that you feel comfortable sharing with us, reach out to us at [email protected]. At the time of registration, when filling out our form, you will also have the space to indicate any access requests.
What steps are you taking towards sustainability?
We are taking a holistic approach to sustainability. When building our program, special attention will be paid to session proposals that relate to sustainability and environmental justice. The venue we will be hosting this year's RightsCon in is a champion of sustainability, guaranteeing maximum sustainability in the development of each of its events through a commitment to bioclimatic, eco-friendly and sustainable design and architecture. In addition, we are committed to minimizing single use plastics and reducing waste where possible. This includes reducing food waste and prioritizing local, sustainable, and plant-based menu options. Lastly, we are committed to using a portion of ticket revenue – up to $15,000 USD – to offset travel emissions and support accredited and independently verified environmental projects in Latin America. Over the coming months, we'll share more details about further steps we're taking and the sustainability projects we're funding.
How do I get a ticket for the event?
Registration for both in-person and online tickets closed on June 2.
Subscribe to our newsletter, the RightsCon Rundown, for updates on the summit, opportunities and more. You can also follow us on Twitter where we'll be posting session highlights and updates directly from San José, Costa Rica.
When will the RightsCon platform open?
The RightsCon Summit Platform is now open for registered participants to login, explore, and start building a personalized program for the sessions they wish to participate in ahead of the summit. Not registered? Get your ticket before Friday, June 2.
Whether you're joining us in-person or online, the RightsCon Summit Platform is your homebase for the event. You can navigate all 600+ sessions using filters, see who is speaking, and chat with other participants.
Do I need a visa to travel to Costa Rica?
Requirements for Costa Rica vary from country to country. To find out if you need a visa, navigate to Sherpa, a useful tool for getting up-to-date international travel requirements. Simply enter the issuing country of your passport, where you're traveling from (including if you have a connecting destination), your dates of travel, and click see requirements. Your trip summary will include whether or not you require a visa for your connection or final destination, COVID-19 guidance, and other documentation requirements.

Additionally, check if any visa exceptions apply to you. If you have a valid multi-entry visa or a valid permanent resident card to Canada, the US, Switzerland, England, Wales, Scotland, Northern Ireland, Norway, Iceland, or the European Union, you may be exempt from holding a Costa Rica visa. We encourage you to check whether you qualify for any visa exceptions by consulting with your local Costa Rica consulate, if available in your city, or checking on official Costa Rica government sites (e.g., Costa Rica embassy in Washington, DC).
What vaccinations do I need before entering Costa Rica?
Before entry into Costa Rica, travelers coming from the following countries must possess a yellow fever vaccination certificate: Angola, Benin, Burkina Faso, Cameroon, Democratic Republic of the Congo, Gabon, Gambia, Guinea, Liberia, Nigeria, Sierra Leone, Sudan, Bolivia, Venezuela, Brazil, Peru, Colombia, Ecuador and the Republic of Guyana.
What type of funding assistance do you provide?
Our Community Support Fund provides financial support to members from civil society who wish to attend RightsCon in-person or online. The fund offers support for in-person participation in Costa Rica including flights, hotel or both, as well as support for online participation including, connectivity, translation and other services.

Applications for the Community Support Fund are now closed as ofMarch 31, 2023.
If my session proposal is approved, what type of funding assistance do you provide?
If your session is accepted as part of the RightsCon Costa Rica program, or if you are associated as a speaker in a session, you will receive a set of discount codes to apply towards registration fees.
What support does RightsCon offer for non-English speakers?
We firmly believe in the importance of multilingual diversity in convening spaces like RightsCon, and continue to work to increase non-English programming through the below approaches.
For all sessions, Session Organizers have the option to run their session in the language of their choice. While we don't know yet how much of the program will run in other languages, we're confident there will be a number of sessions, given 14% of proposals were submitted in languages other than English.
For online Workshops, Fishbowls and Private Meetings, Session Organizers will be able to enable live-interpretation and live closed-captioning in Zoom. Funding for translation support can be applied for through our Community Support Fund.
For in-person sessions, we are providing simultaneous translation into Spanish for our mainstage programming through a headset. Closed-captions will also be made available for our mainstage program through a mobile device.
Aside from the above, participants are welcome to bring their own translator to accompany them to sessions and support through whisper or consecutive translation. Translators will be provided with a free ticket if they apply through our discount form.
When the program launches in May, you will be able to easily navigate the schedule by language to identify non-English sessions.
As always, we welcome your feedback on how we can improve our efforts and provide better support.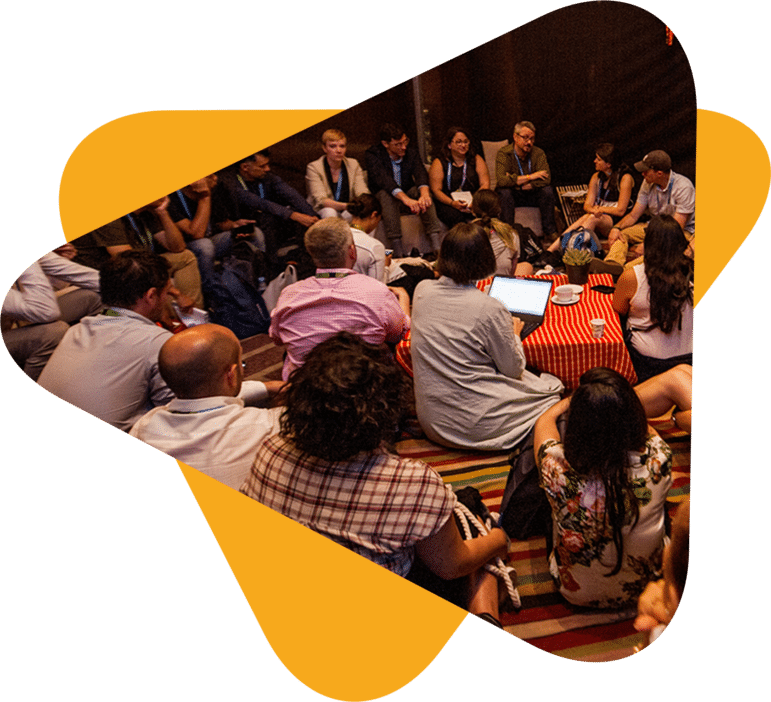 Invite Your Community
Make sure everyone in your network – from across all stakeholder groups – is at RightsCon.