In-person guidance

Room set-up and support
In-person dialogues are hosted rooms set up theater-style, with the facilitator and speakers seated on a low platform or in front of the audience. Rooms designated for dialogues can accommodate a minimum of 30 and a maximum of 150 participants.
A room monitor will be stationed in each room in order to manage participant access, track time, and clear and reset seats and tables once the session concludes. Zone managers will also oversee a block of rooms and provide a point of escalation for room monitors to report any issues.

Venue and room access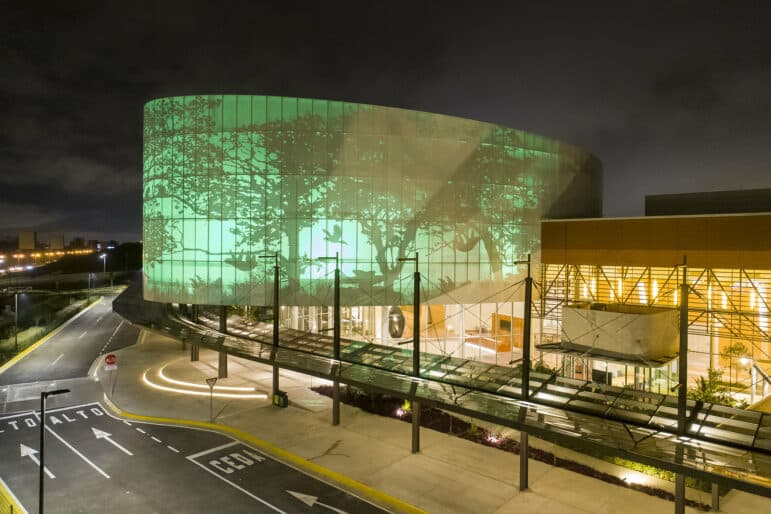 RightsCon Costa Rica will be hosted at the Costa Rica Convention Center from June 5-8, 2023. Our team will share instructions on arrival and access to the session room in advance of your session. Session organizers, speakers, and facilitators should arrive 15 minutes before the session start time to prepare for the session.
Dialogues will be hosted in [list rooms with thumbnail images]. You will be notified about the exact room you have been assigned to in 2023. Please consult your room thumbnail to see the floor plan, seating layout and the technical specifications for your sessions' specific room.
Participants will be able to view the session in the program page of the RightsCon summit platform and join the room at its designated start time.
---

Tools and features
Some in-person dialogue rooms will come equipped with audio / visual support, including microphones, screens, and a stage. You will find out which room you have been assigned in mid-April, when the schedule is released.
We do not advise that you rely on this equipment to run your session, and discourage the use of slideshows, presentation tools, and visual aids, as a general rule.
In-person dialogues are not recorded by default or made accessible to online participants.

Language and accessibility
Dialogues hosted in-person do not support real-time interpretation. Session organizers can arrange for a consecutive (whisper) translator to attend the event and sit beside the speaker to interpret for the audience. However, session organizers should be mindful of the time and potential delays caused by consecutive translation and plan accordingly.
You can share one of the 100% off ticket discount codes provided for your session with the translator to ensure they receive access to the venue on the day of the session. The entrance, interior, and bathrooms in our venue are wheelchair accessible. We are also actively working to make sure that all of our programming space in and outside of the venue is accessible to as many participants as possible.
In the update form, you can note specific access needs for your session, and our team will reach out to discuss further. You can also contact us at [email protected], if you feel comfortable.

Session design
How do you keep the conversation flowing and participants invested? Many sessions fall into the trap of "talking at" your audience. A well-designed dialogue asks, at every point, what will participants gain?
There are dozens of learning approaches and theories for designing a session. You can read more in our overview of participatory design and adapt our session structure, based on the ADIDS model from Level Up, to get started.
Introduction (5 minutes)
Welcome participants to the session. Review restrictions around attribution, remind participants not to take photos or videos of speakers and participants wearing red lanyards.
Briefly introduce the session structure and explain what you intend to achieve. Don't waste time on bios. Participants can already see speakers listed on the session page and look up anyone of interest after the dialogue ends.
Activity (10 minutes)
Open up the floor to the audience to provide quick comments or questions, and orient the direction of the conversation based on topics of interest. Speakers should listen actively and facilitators should note down the list of questions and remember to step in and redirect any lengthy comments.
Discussion (5 minutes)
Ask the speakers to reflect on the questions or comments posed in a lightning round (30 seconds per person). Use the activity to frame and launch into deeper exploration.
Input (20 minutes)
Prepare three or four questions intended to stir disagreement or debate among speakers, ideally selected from the audience. Find the points where opinions differ or are in conflict.
Speakers should come ready to listen and react. (No prepared statements, please!) Facilitators can even direct speakers to "pass the mic" and ask questions of each other. Make sure that no one takes the floor for more than 2-3 minutes at a time, to keep the discussion balanced and lively.
Remember: dialogues are for conversations, not presentations. Brief "interviews" with speakers, back-and-forths, and funny or informal asides make the session feel more organic.
Deepening (15 minutes)
Pause and check in with participants. You can take an informal poll and ask people to raise hands based on agreement or disagreement, or open up to another round of questions. Remember to remind speakers to keep answers brief and to the point.
Synthesis (5 minutes)
Take a beat at the end of the session to resurface the main points of discussion. Rather than a report-back, ask speakers to share one fact or idea that they learned or take another informal poll to measure if audience opinions have changed over the course of the session.
Provide a call to action or specific avenue for the audience to continue exploring the issue. End on time, and don't forget to thank your speakers and participants!

Checklist
Use the checklist below to "tick the boxes" for coordinating a successful session. Please take special note of the items in bold which are attached to a specific deadline.
Five weeks out (May 2 to 6)
One month out (May 9 to 13)
Finalize and submit poll questions through the request form by May 8 at 23:59 Pacific Time.
Review the draft program schedule provided by the RightsCon team and request any critical changes to your assigned session date and time by May 13.
Check if your facilitator and speakers are comfortable with video, or if an avatar and/or pseudonym is preferred for privacy reasons. If pseudonyms or alternative IDs will be used, please contact our team at

[email protected]

to receive guidance and tips to create a secure RightsCon experience.
Three weeks out (May 16 to 20)
Finalize any time cues or instructions that your technical moderator will need in order to activate certain features. Some organizers create a session overview with time markers to copy into the collaborative document during the 15 minute preparation period.
Decide whether the panel is attributable, not attributable, or under the Chatham House rule, and plan to clearly state your preference at the top of the session.
Confirm that your facilitator and speakers have downloaded the Zoom desktop client.
Two weeks out (May 23 to 27)
The summit platform will open on May 23. Organizers, speakers, and facilitators can explore the entire program agenda and review your unique session page. For any urgent changes to the information displayed on the platform, contact us at

[email protected]

.
Schedule a call with your facilitator and speakers, if possible, to review the session structure and content, and check framing, lighting, backdrop, and internet connectivity for anyone who will be on camera.
One week out (May 30 to June 3)
Invite your facilitator and speakers to the calendar hold sent by our team. The hold should be set for 15 minutes before the scheduled date and time of your session. Do not invite anyone else to the hold, or else you will compromise the security of your session and the entire summit space.
Come to one of our orientation sessions on June 1 or June 2 to network with other session organizers, hear from the RightsCon team, and ask last-minute questions.
On the session day (June 6 to 10)
The calendar hold will populate with the link to your room 3-5 hours before the scheduled start of your session. If the link does not appear within one hour of your session, please reach out to our team at

[email protected]

for immediate support.
Fifteen minutes before the start of your session, enter your session room. Your technical moderator will let you in and wait for you to verify the names of the speakers and facilitator who are in the waiting room.
Confirm with the technical moderator the use of any features, such as polls, and indicate exact timing cues around those features.
The technical moderator will provide access to the collaborative document and run a check with the speakers and facilitator for any framing, lighting, backdrop, or connectivity issues.
A livestream of the session room will appear on the summit platform for participants at the scheduled start time. Organizers who are not speakers or facilitators in the session can exit the room before the livestream starts.
There is no action needed on your part for registered RightsCon participants to gain access to the session livestream. Do not share the calendar hold or the room link with anyone except for your facilitator and speakers.
Navigate other format sessions