Welcome to our submission guide for the RightsCon Tunis Call for Proposals! This guide walks you through the five key steps to take for a successful session proposal. Find information about the proposal process, review our evaluation criteria, schedule a time at our office hours for further questions, and more!
We've extended the deadline! Submissions are now due December 19, 2018 at 23:59 Pacific Time.
Notes Before You Start
For 2019, RightsCon is deepening its investment in building a strategic and outcome-oriented program, with a focus on session excellence. Before you start, read on below to understand the new features and important initiatives that are shaping our approach to the program and session selection, all with the aim to improve the proposal process and ensure RightsCon continues to be a place for moving forward your work:
Every RightsCon program is divided into tracks to help participants navigate around the many issue areas our community covers. The below categories inform the creation of these program tracks by our Program Committee. Scroll below and identify which category is relevant to your topic. See more than one that applies? No problem, if relevant, we'll let you check a secondary category in the session proposal form.
Artificial Intelligence, Automation, and Algorithmic Accountability
---
Freedom of Expression and Censorship
---
Misinformation, Journalism, and the Future of Online Media
---
Civic Tech and e-Governance
---
Corporate Social Responsibility, Transparency, and Remedy
---
Data Trust, Protection and User Control Locally, Regionally, and Globally
---
Privacy, Surveillance, and Individual Security
---
Countering Online Harassment, Hate Speech, and Violent Extremism
---
Jurisdiction and the Rule of Law
---
Diversity and Inclusion
---
The Impact of the Convergence of New Technologies
---
Innovation, Trade, and Intellectual Property
---
Democracy, Conflict, and the Shrinking Civic Spaces
---
Cybersecurity and Encryption
---
The Impact of Technology on the Sustainable Development Goals
---
Internet Shutdowns, Net Discrimination, and Connectivity
---
Philanthropy, Funding, and Operational Development
---
Skill-building: Tools, Demos, and Trainings
---
Skill-building: Advocacy and Campaigning
---
Skill-building: Organizational and Individual Wellness
The variety of session formats in the RightsCon program reflects the diversity of goals our community is working to achieve. Now that you've refined your topic and selected a program category, start to consider the substantive purpose of your session. This will help you pick the best format for reaching your goals. Are you trying to: Identify and Map out Emerging Topics, Problems, and Solutions Strategize with Key Stakeholders for Next Steps Share Skills and Lessons Learned Draft Best Practices or Principles Ask Help to Solve a Problem
Now, pick the best format for your goals
Once you have your program category, goals, and session format in mind, you're ready to start the session proposal form. Remember, you can always save a draft and return later to finalize before submitting. As you draft, we suggest you review the criteria we use to guide our session evaluations below.
Our Evaluation Criteria
| | |
| --- | --- |
| IMPORTANCE | How relevant is the proposal to the broader human rights space? Is it timely, and does it discuss an important and emerging issue? |
| OUTCOMES | Is the proposal likely to engage participants in a way that inspires a real-world outcome? |
| ORIGINALITY | Does the proposal introduce new voices, new concepts, new format, or a fresh take on an issue? |
| COLLABORATION | Does the proposal have the potential to initiate or encourage constructive cross-sector collaborations? |
| DIVERSITY | Does the proposal feature speakers from a diverse range of perspectives, backgrounds, and communities? |
| COMPELLING | Does the proposal have the x factor that brings a sense of excitement and intrigue to the RightsCon program? |
| FIT | How does this proposal fit within the track for the selected topic or issue area? |
Evaluation Process
Each year, Access Now and the RightsCon team work with experts from around the world to form the RightsCon Program Committee. After the submission deadline, each session will be evaluated and reviewed based on specific criteria above. The Program Committee works alongside the RightsCon Team to curate connected, strategic, and outcomes-oriented program tracks. Note that the Program Categories will not all necessarily be reflected in the final Program Tracks.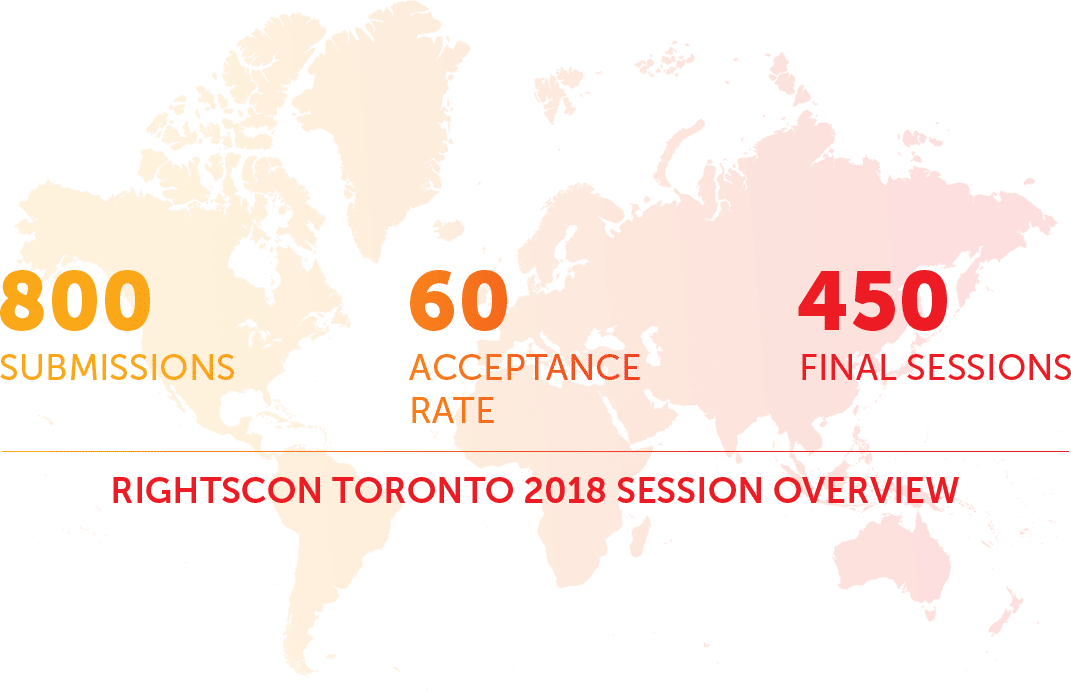 High-quality proposals may be accepted in their original form, while others may be recommended with specific changes. Unfortunately, not all proposals will be accepted. For context, in 2018 we had 800 submissions, with an acceptance rate of 60%, resulting in 450 sessions being selected for the final program.
This checklist will help you clarify logistic questions and ensure the success of your final kick.
1

I have a clear goal and outcome for my proposal.

2

I have potential collaborators across sectors and organizations (reminder: diversity and inclusion).

3

I have picked a program category and a session format for my proposal.

4

5

6
Program Timeline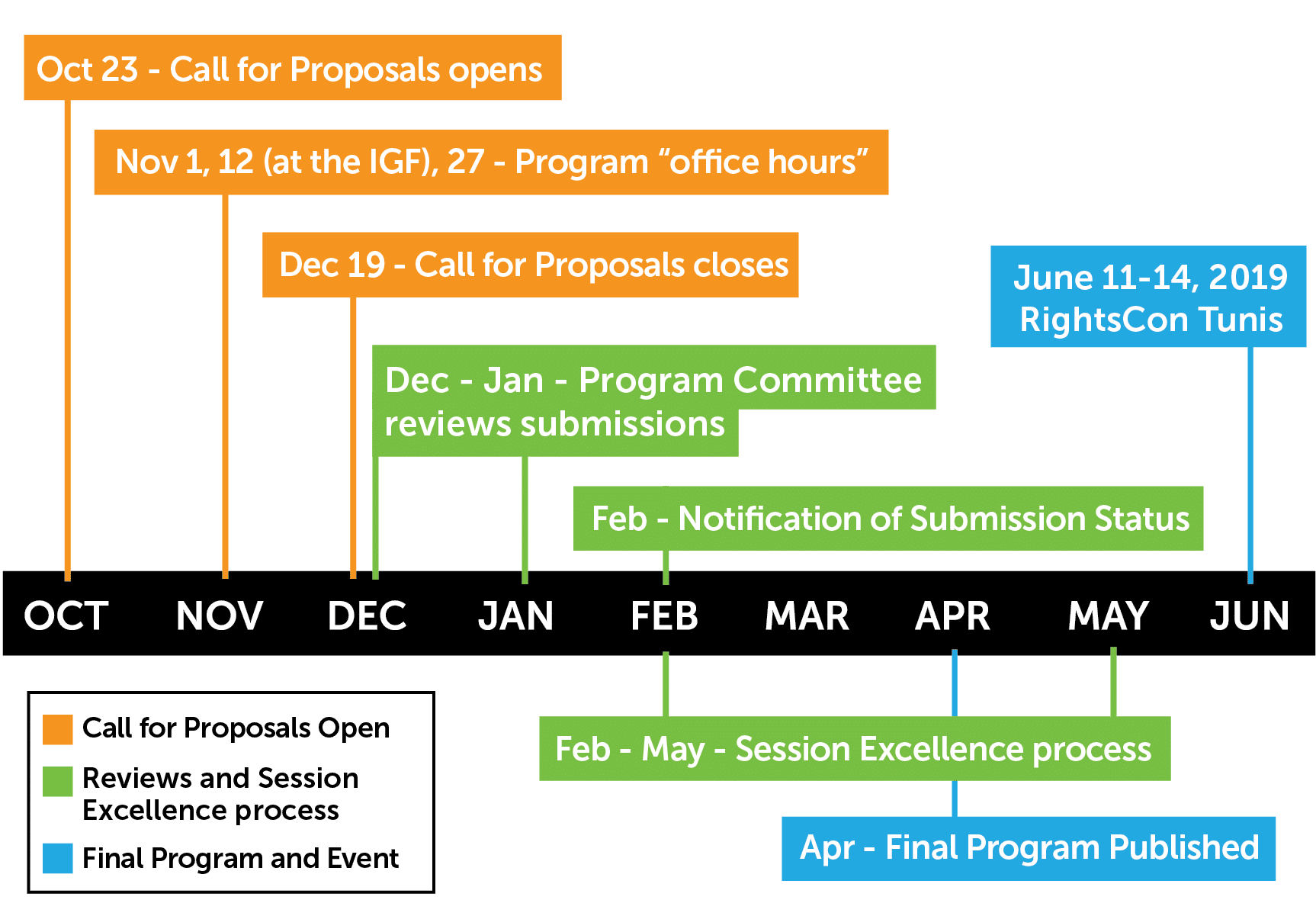 Questions?
Our Office Hours will open on November, 1 2018! Sign up to RightsCon Rundown to get latest updates, programming development, and more.