Celebrating 10 years of RightsCon: 2021 Outcomes report
The RightsCon team is excited to share our Outcomes Report for the 10th anniversary edition of RightsCon, which took place across all time zones from Monday, June 7 to Friday, June 11, 2021. 
RightsCon 2021 was our second summit hosted online, bringing with it opportunities to strengthen our platform for a growing global community. From creating informal spaces for connecting on Social Hour, to showcasing vibrant "after dark" performances and hosting our largest community-built program, this year's event was both memorable and inspirational. 
Our annual Outcomes Report provides insight into the state of human rights in the digital age. The full report details community insights, achievements, survey results, and learnings from the summit. You can explore the highlights below and read the full report for an in-depth look into RightsCon 2021.
For the past 10 years, RightsCon has been a central platform for the human rights and technology community to convene, connect, and coordinate. From the first summit in San Francisco, to the many that followed – in Rio de Janeiro, Manila, Brussels, Toronto, and Tunis – the RightsCon community has grown and adapted to meet the needs of the moment. The 2021 Outcomes Report illustrates the tangible power of online convening and the importance of refueling our movement for the work ahead, over the next year and decade. 
---
The highlights
A record-breaking summit across the board – and our most diverse yet – this year we welcomed 9,212 participants from 164 countries, a 20% increase to our community from 2020.  Women led RightsCon this year, making up 53% of participants and 59% of session organisers.


---
The RightsCon program
The community-sourced RightsCon program tells a story of adaptation and transformation, as organizations, companies, and governments around the world adjust and respond to the impact of COVID-19. (We received over 1,000 proposals for the third year running!)

The RightsCon 2021 program was our largest to date, with over 500 sessions cutting across issues that were at the core of RightsCon when it started – privacy and transparency – and newer, critical contributions from movements for health equity, racial justice, climate action, and LGBTQ+ and women's rights. 
90% of surveyed participants rated RightsCon programming as excellent or good.

84% of surveyed session organisers rated their experience as excellent or good.
Beyond the panels, lightning talks, tech demos and community labs sessions in the program, we have also been exploring and investing in other spaces that allow for more connection and community building. RightsCon's private program is one such space that allows for private meetings and strategic Solve My Problem sessions. The private program allows for advancing outcomes around sensitive, emerging, or evolving topics, greater cross-sector coordination and securing commitments from specific actors.
Open Spaces, the new addition to the RightsCon program was a hit and seemed to meet community needs for more networking opportunities, spaces to make "hallway" connections, and to socialize, and unwind. 81% of participants surveyed who had attended Open Spaces sessions, indicated that they enjoyed them and wished there were more of them.
Social Hours in particular were a community favorite. "I absolutely LOVED the Social Hour. The format, the online "digital tables", how it only holds 6 people at once… it was all so brilliant, and was the closest thing to a staffed table IRL" Wafa Ben-Hassine, Principal, Omidyar Network.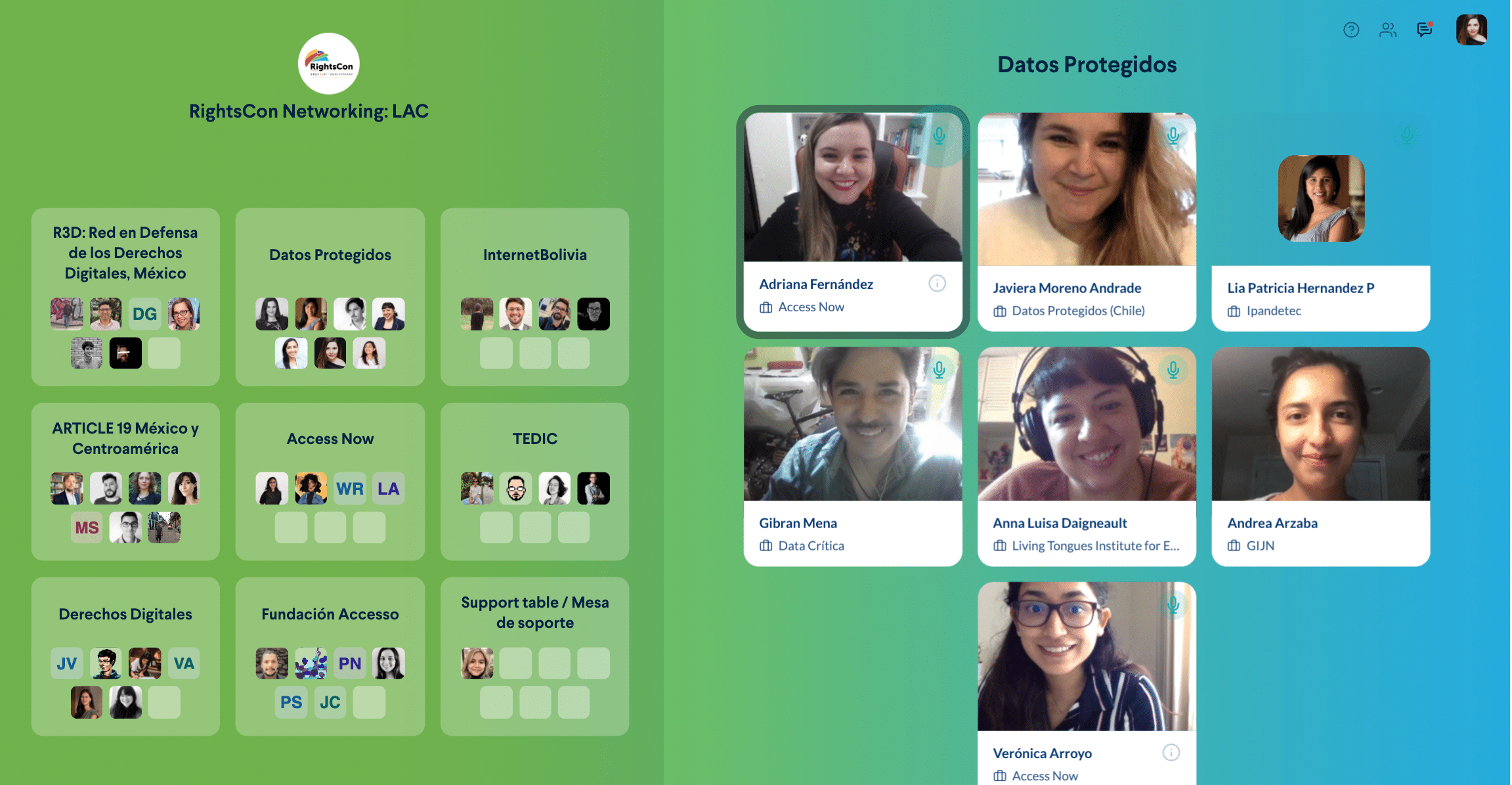 ---
Participant Experiences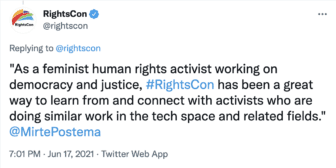 88% of surveyed participants rated their overall RightsCon experience as excellent or good and 73%  felt that participating in RightsCon 2021 had substantively supported the advancement of their work. 
---
Inclusivity at RightsCon
As with each Summit, inclusivity and diversity were central guiding principles for RightsCon 2021. We undertook a number of initiatives, with our community, to improve inclusion and accessibility, including conducting a diversity audit of every session, offering a free community ticket option to all participants, with TechChange, conducting a full accessibility audit, and more.
For the second year in a row, we ran the RightsCon Connectivity Fund, launched in 2020 to provide direct financial support to session organizers, speakers, and civil society participants. We were able to support 151 participants (a 93% increase from last year) from 32 different countries, with the majority (87%) supporting the African region.
---
Impact and outcomes
RightsCon 2021 was a critical space for coalition building, we saw the launch of a new MENA coalition to  combat the sale of surveillance technologies to governments using them to violate human rights, the growth of the #BanBS global coalition, a powerful new network working together to ban biometric surveillance, and diverse actors coming together to call on Facebook to Stop Silencing Palestine.
For the third consecutive year, nine – the most we've ever welcomed – United Nations Special Rapporteurs released a joint statement emphasizing digital rights as a "top priority" to rebuilding civic space in pandemic recovery.
RightsCon 2021 also saw the launch of multiple new and exciting projects on digital rights, including the Tech for Democracy, a robust new advocacy toolkit and a comprehensive resource library  to support the fight against internet shutdowns and, Digital Rights Watch's Internet Economy Project to rebalance power online.
---
Looking ahead to 2022
Together we have achieved so much in 10 years of convening and we know the best is yet to come. 
We know many in the community are keen to convene at RightsCon in-person again, though significant concerns about safety and travel restrictions remain. The benefit of RightsCon is the diversity of the community and our decision about where to convene is grounded in our commitment to ensuring the event remains as inclusive and accessible as possible. 
91.8% of you who filled out the survey indicated that you would join us for another online iteration of RightsCon. We'll be hosting 2022 online and look forward to sharing more details (including a Save the Date, coming in September), shortly. For now, join us in celebrating what we achieved this year by reading and sharing the 2021 Outcomes Report.