Meet our safety and security team (plus explore the RightsCon summit zone)
This is the third in a series of RightsCon blog posts on safety and security ahead of our 8th annual summit in Tunis. Read our first and second post here.
In a few days, we'll come together for the largest RightsCon in our summit's history – the first hosted in Africa and the Middle East. As we put together the final touches to welcome participants, we wanted to share our final blog post in a series highlighting our ongoing efforts to build a safe, secure, and productive space for the RightsCon community.
This post will introduce key team members who have been working hard behind the scenes to ensure all measures, mitigations, plans, and processes are in place to support the 2500+ participants joining us in Tunis next week. As RightsCon grows, so too do the spaces our community occupies. For this reason, we want to provide insight and information on what may look a little different this year, as well as how to best navigate and experience the RightsCon venue.
As a reminder, you can read about how we've been thinking about safety and security and review tips for staying safe – both online and off – in the lead up to and at the summit. We are looking forward to a successful and exciting RightsCon, but we also recognize there may be instances where participants want to reach out, discuss a concern, or report something. We're keen to hear from you and are positioned to listen, support, and help resolve any issues that may come up. Learn more about the avenues to get in touch at the bottom of this post.
Meet the safety and security team: Introducing Thom and Ben
While you're already well acquainted with the RightsCon team, there are a few key team members you should meet. To that end, we're thrilled to introduce Access Now's newly appointed Chief Security Officer, Thomas Kaye. Thom started working with us a few months ago and with RightsCon Tunis approaching, quickly got up to speed. Thom comes to Access Now from Transparency International, where he worked as their Global Security Manager. He brings a decade of experience in safety and security management from the NGO and humanitarian sectors.
Thom has been working closely with Ben Whelan, our Global Risk and Operations Manager. Ben is a RightsCon veteran (Tunis will mark Ben's sixth summit working with Access Now). With a wealth of Access Now and RightsCon experience, Ben has been leading and coordinating much of the risk and security planning for the summit, internally and externally.
Navigating the RightsCon Tunis Venue
This year will be the biggest RightsCon we've ever held. In order to fit in the many sessions, meetings, and exhibition spaces, we're trying something a little different. The RightsCon summit zone will be made up of two great venues: the Hotel Laico and the neighbouring Palais des Congrès, which we are linking together to create one secure summit zone that encapsulates both venues.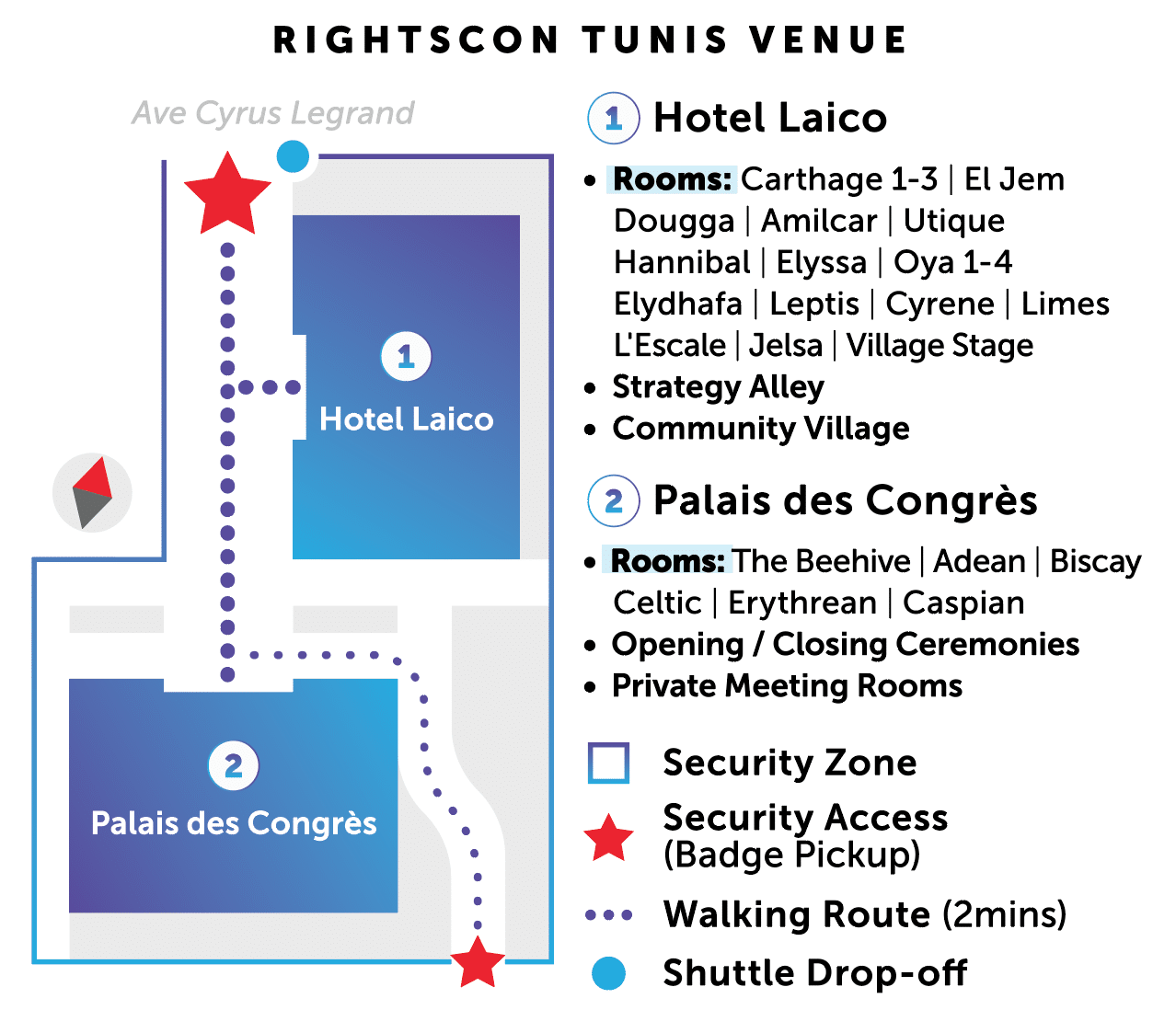 To help us in coordinating and managing the RightsCon space, we have hired an experienced event and risk management company who we're working closely with, alongside hotel security and local authorities. We've undertaken detailed assessments and planning, with the goal of ensuring a relaxed and open feeling across the entire RightsCon summit zone, while also providing a sense of confidence, safety and security, that fosters an environment for some complicated and sensitive conversations to happen.
When you arrive at RightsCon you have an option to enter the summit zone from one of two entrances, either at the Laico Hotel or the Palais de Congres (illustrated on the map above). These entrances will be visible with big white tents that will house our RightsCon credential pickup desks and our security screening. We have a professional security team at the tents who will be conducting the security screening, which includes metal detectors, X-ray machines and bag checks. This check-in process will be quick and efficient. Before long, you'll soon find yourself inside the summit zone enjoying everything that RightsCon has to offer!
Aside from hotel and conference staff, only registered participants with RightsCon credentials will be allowed into the summit zone and, as a result, we ask that everyone wear their credentials at all times. This means that each time you leave and come back into the summit zone you will have to go through these standard security procedures, so please be sure to always have your credentials with you!
To get between the two venues we've made arrangements with the local authorities and traffic police to securely transport people across that road as needed. We will be heavily restricting traffic during busy periods, such as the opening and closing ceremonies. Don't worry, we'll make sure you reach your next scheduled session in time, no matter where it's located!
Outside of the zone there will be a visible local Tunisian police presence. We've worked closely with the local authorities around these arrangements, which are there to further support the safety of the summit.
Private spaces to meet and discuss within the venue
Need to have a quiet conversation? Session organizers can indicate if they would like their sessions to be open or private, and whether they will be Chatham House. We also have semi-private meeting pods that can be booked (on a first come, first served basis), and plenty of standing tables across the venue. Have an impromptu conversation by taking advantage of the many meeting spots across the RightsCon summit zone.
Stay connected
RightsCon is a devices at ease summit and, as much as possible, we encourage you to be present. We understand that you will need to connect and are providing free, open internet across the summit zone. While we are taking steps to secure the connection, we strongly advise all participants to follow the steps outlined in our last blog post, like using a VPN. If you're a power user who will need fast-speed connection at all times, we recommend picking up a sim card at the airport.
Getting in touch during RightsCon
In the lead up to and at the event, you may need to get in touch with our team around safety and security concerns that emerge. While info desks are available at both locations and can always direct you to the appropriate contact, we've included below guidance on who to get in contact with and for what.
For

general safety and security concerns

– whether to answer questions about vulnerable groups or the privacy of your participation –

 both Ben and Thom will be available throughout RightsCon. They're well positioned to channel any requests to the right place, person, or process. You can reach them at

[email protected]

and

[email protected]

.

For Code of Conduct related concerns – our Code of Conduct team will be at RightsCon in full force and supporting the community in case there are any incidents or issues that violate our code of conduct, principles, or priorities. The Code of Conduct team consists of: Nina Komakhidze; Melissa Kim; Melody Patry; Peter Micek. You can reach them in person or by emailing [email protected]. Information related to the Code of Conduct and other ways to contact them are found

here

.

For emergencies – you should be aware of the local police (197), medical (190), fire services (198) numbers. Otherwise call the emergency number on the back of your credential to speak with our security team leads during the conference, who can coordinate with local authorities as needed. This number should only be used for fire, medical, or other types of emergency physical security concerns.
That's all for now – we can't wait to see you soon!